GIRLS ARE POWERFUL 2020 SPONSOR
BEAUTIFUL is Heather's favorite power word. "I was really drawn to the word beautiful; partly because I didn't feel beautiful growing up," says Heather.
"It took a long time for me to learn how much power there is in seeing your beauty inside and out and really believing that you are b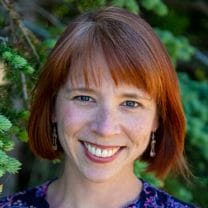 eautiful."
Heather now has taken full control of her beauty and power as a speaker, coach and author (heatherwhelpley.com/book). "I help guide women to let go of proving, people-pleasing and perfectionism so they can have more joy in their life and create greater impact in their work." Heather works with adult women in similar ways as Girls Are Powerful works with young women. "Girls really start to take a hit in those pre-teen and teenage years," she explains. "They start to quiet themselves and make themselves smaller. They need resources like Girls Are Powerful to help them to not do that; to see themselves as powerful and confident and to believe in themselves."
When Heather launched a coaching program for women in 2020, it was the perfect opportunity to support the parallel work being done by Girls Are Powerful. She donated a portion of the proceeds to the nonprofit organization. "I knew Shawntan was an amazing woman doing great work, and the work of Girls Are Powerful was even more important in the challenging times we were facing." (referring to the pandemic, racial injustice, the polarizing election, and more).
Heather feels a strong personal connection to the Girls Are Powerful mission. "There is physical beauty in the radiance and light that comes from women of any age – whether you're 7 or 77 – owning her own power and knowing exactly who she is. It's beauty that we've all seen in women who are not supermodels yet you can't take your eyes off them because they know exactly who they are; it's the combination of glowing on the outside because you are so sure of who you are on the inside."
That is the true lasting impact of resources like Girls Are Powerful that Heather is so grateful to contribute to and financially support.
Proceeds from this sponsorship created a scholarship fund to support our 2020 virtual programs: Summer of Power and the Mother-Daughter Retreat