Previous Your Wellbeing Matters Events
YOUR WELLBEING MATTERS 2.0
CONTINUING TO CREATE SPACE FOR US TO COME TOGETHER
As many of us are spending more time at home amidst the global pandemic, it's more important than ever to stay active, remain connected, and prioritize self-care. Join Girls Are Powerful as we come together to rejuvenate our minds and bodies through virtual sessions.

Power Move is a twice a month movement series (2nd and 4th Tuesday of each month) a part of the Your Wellbeing Matters 2.0 that will feature fitness specialists to keep us moving, informed and connected. These 30-minute sessions will be brought straight to you on Facebook Live.

Empower Hour is a monthly series a part of the Your Wellbeing Matters 2.0 that features health experts to help keep us informed about COVID 19. Topics range from how to get tested, lowering our risk, what recovery looks like and strategies to cope with the mental effects of this pandemic.
December 1, 2020 at 6PM CST.

Power Move: IntenSati with Leah
Join us Tuesday, December 1st for our next Power Move session – intenSati with Leah Michael.
During this session we will be priming our body, mind, and heart through this sweat-dripping, heart-pumping, mood-lifting cardio class (think dance meets kickboxing meets yoga) which infuses powerful, positive spoken affirmations that will take your transformation from purely physical to totally holistic. Move your body, free your mind, amplify your greatness.
About Leah – Leah Lovelight Michael is the founder of Lovelight Way, Author of Modern Fear The Invisible Prison, certified XCHANGE Guide, and certified intenSati leader. Her mission in life is to support the elevation of humanity rising out of fear and falling into love: Love of Self, love of others, love for the whole.
December 3, 2020 at 6PM CST.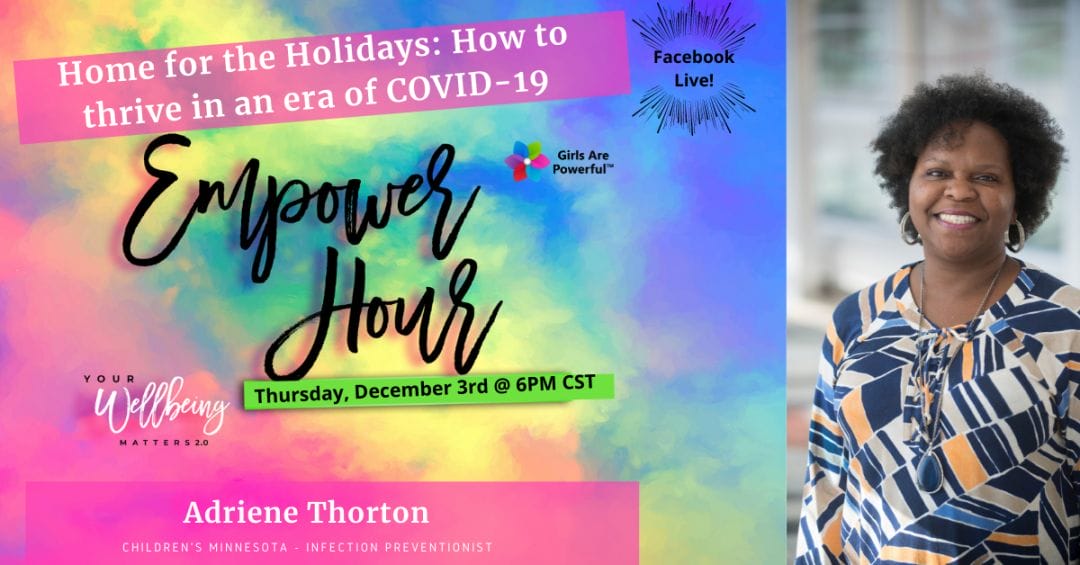 Empower Hour:

Home for the Holidays: How to thrive in an era of COVID-19
Join us on November 19th for our next Empower Hour with Adriene Thorton via Facebook Live at 6PM CST.
Information about COVID-19 will be shared along with ways to manage stress and isolation during the holidays, and how to safely enjoy the holidays
Our Speaker: Adriene Thorton is a Registered nurse in pediatrics for 30 years Infection Preventionist for 16 years
Certified in Infection Prevention and Control Former high school cheerleading coach.
Power Move: QiGong for Relaxation and Resilience

In this session, we practice QiGong for Relaxation and Resilience with Susan .
Qigong is an Asian form of yoga that has been around for thousands of years. The guiding principle of Qigong is the coordination of the eyes with the body movements.  Qigong is a form of mindful movement that is a slow, intentional form of tai chi. Qi is Chinese for life energy, and qigong is the practice of managing the flow and distribution of life energy to improve awareness and harmony of mind and body.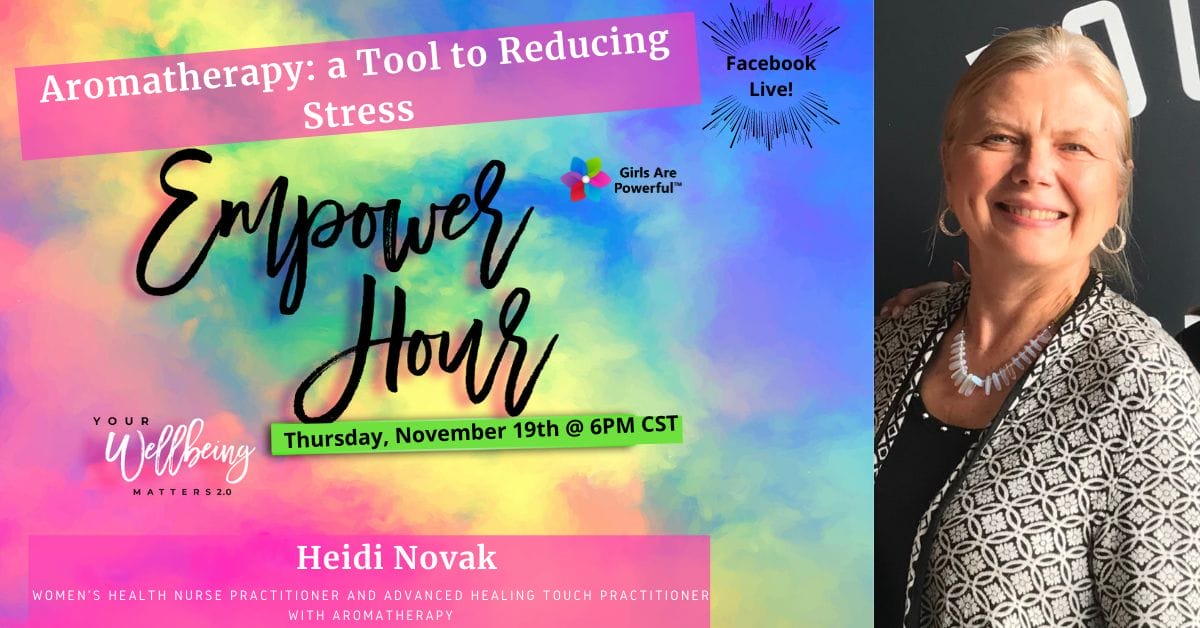 Empower Hour: Aromatherapy, a Tool to Reducing Stress.
In this session with Heidi Novak who was joined by Nia, Ana, and Pria, Heidi's own youth advisory, they discussed the challenges and opportunities that have been presented to us during this pandemic. Resilience and healthy adaptive behaviors where discussed as a way to strengthen the ability to live through, survive and possibly thrive during uncertainty.
Power Move: Mindful Movement with Chance

In this session, with our mindfulness expert Chance York, we will learn practices of breathing and foundational yoga poses. We will use our chemistry to feel better and live with more impact and satisfaction.
Power Move: Strength & Core Fitness with Coach Chaz



In this session, we moved, burned calories, increased our strength, boosted our confidence, and improved our aerobic endurance.
Empower Hour: Teens, Tweens and COVID, a Discussion



In this session, the Girls Are Powerful Youth Advisory Board, participated in a panel discussion with members During this time they discussed the impact of COVID and how they are rocking the pandemic.
This panel discussion will be moderated by Brandi Powell, Journalist and a Weekend Anchor/Reporter at KSTP-TV.
Power Move: Igbo Dance with Korma

In this session, we learned traditional and contemporary West African dance moves including Igbo dances, Gwara Gwara, Poco Azonto, Ndombolo and more. This is a fun and exciting way for all levels to learn a dance routine and also burn calories.
Power Move: Barre and Stretching with Mia
About our movement instructor: Mia Wanna – She has been in the fitness industry since 2014. I started at the YMCA where I became a certified fitness instructor. I've also received a Barre certificate through DharmaCycleYoga. I also teach HIIT which I am a certified Metafit coach.
Empower Hour: Case Investigation and Contact Tracing
Mateo is an epidemiologist at the Minnesota Department of Health. He works in the Refugee and International health unit but during COVID-19 he works as a community liaison for Hispanic/Latinx community members. He has worked on case investigation and contact tracing for COVID-19 since early March and now works a lot with critical infrastructure businesses and making sure they have the information and resources necessary to stay operational while ensuring a safe environment for employees.
Power Move: Joyful Yoga with Shira
About our instructor: Shira Charis:
My first priority in teaching is to clear away the stress, tension and mental chatter from the day by creating a comfortable and welcoming environment. From there, my role as a teacher is to know when to step in and when to get out of the way. Using compassionate guidance, I support students in whatever way seems most appropriate. Regardless of the means, the goal is always the same: to create increased self-awareness and support the realization that true understanding comes from within.
Power Move: Yoga with Lisa Xiong
Power Move is a twice a month movement series (2nd and 4th Tuesday of each month) a part of the Your Wellbeing Matters 2.0 that will feature fitness specialists to keep us moving, informed and connected. These 30-minute sessions will be brought straight to you on Facebook Live. 
#StayingActive
Empower Hour: Covid19 Rehabilitation Discussion
Dr. Ikramuddin will discuss the impact of the viral infection on function, specifically the muscles, nerves, and cognition through lessons learned in the pandemic. Including discussing the timeline for recovery.
+ Our movement instructor will be Marcus Watson, who will lead us in a 20-minute workout that will cover basic moves to safely do from home in "Taking care of your body during quarantine: Exercises you can do at home to boost your mental and physical health."
+ Our speaker will be Kjirsten Mickesh, who will teach us about what social and emotional intelligence is, how to develop it, and strategies to incorporate it in everyday life in an interactive workshop for all ages entitled "All the Feels."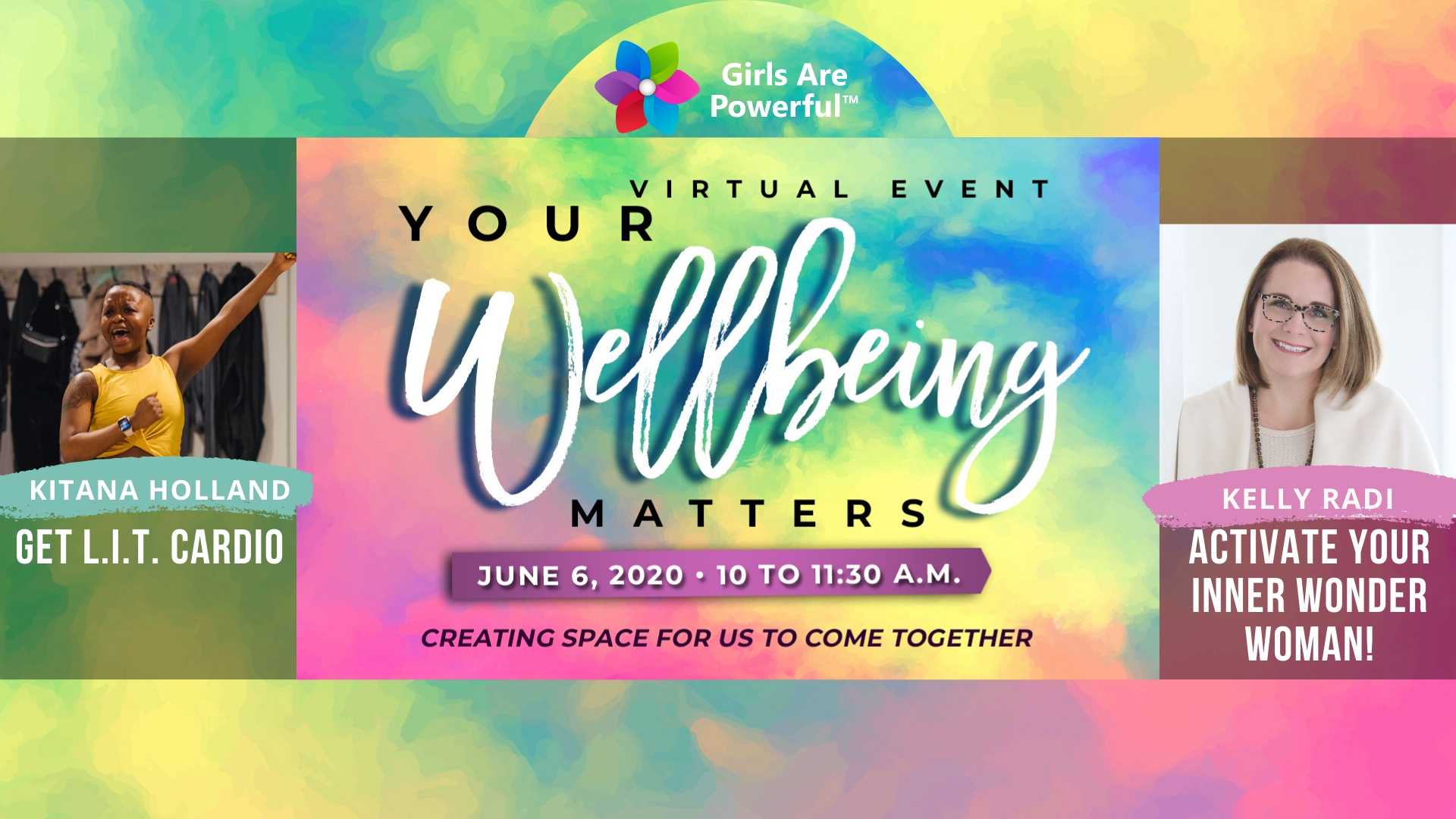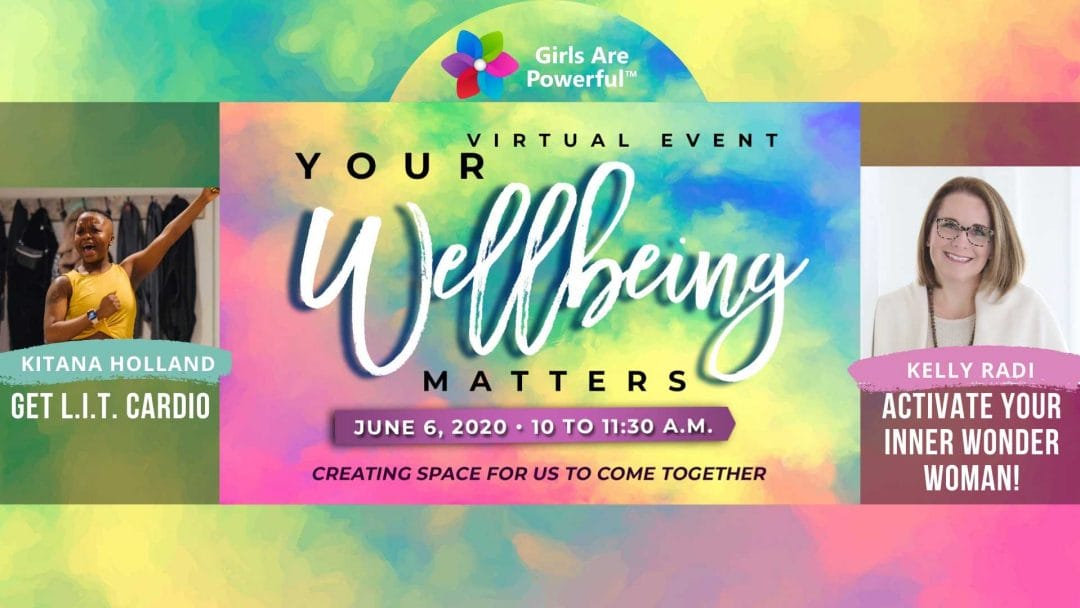 + Our movement instructor will be Kitana Holland, who will show us how we can be liberated, inspired, and transformed through fitness with "Get L.I.T. Cardio." We'll move to Afrobeats, Hip Hop, and more during this workout for all ages.
+ Our speaker will be Kelly Radi, who will talk to us about confidence, success, connection, and positive thinking in a presentation entitled "Activate Your Inner Wonder Woman."
+ Our movement instructor will be Jessica Morrison,
who will lead us in "Hula Healing: Bring Joy and Healing Through Movement." We will learn to move in fun new ways, with or without hula hoops!
+ Our speaker will be Chaz Sandifer, who will lead us in "Meal w/ a Twist," a live cooking class where we will learn about making an easy, healthy meal and incorporating a fun family workout into our busy lives.
+ Our movement instructor will be Aiyana Machado, who will lead us in "Kumbé dance fitness," which offers a unique physical and mental workout for all ages and body types using the traditional dance and music of Puerto Rico.
+ Our speaker will be Melissa Taylor, who will lead a talk entitled "Hello BeYOUtiful." Together we'll discuss hair, skincare, and your undeniable, unique beauty.
+ Our movement activity will be with Coach Chaz Sandifer who will lead us through Cardio Jam which is a mix of cardio-kickboxing, strength, core and conditioning with some great music to get your body moving.
+ Our speaker will be Dr. Reba Peoples who will discuss, Food For Your Mood: Understanding the Food-Mood Connection. Dr. Peoples will outline the key role that food plays in our emotional health. Although most of us may be aware of the critical role that the food that we eat plays in the way that we feel, many of us may not realize that what we put onto our bodies as well as what we choose to feed our minds and spirits are also just as important in helping us feel our best.