You mobilized behind Girls Are Powerful and we won the category! 
Thank you to everyone who nominated us and voted for us, we are so honored and ever so thankful for your support!
GRP Selected for 2020 Impact List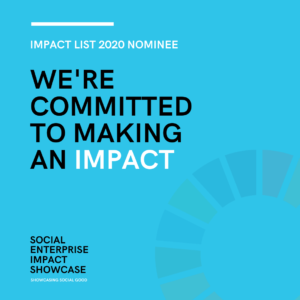 This annual list highlights 80+ Minnesota-based social enterprises, recognizing their commitment to positive social and environmental impact. Join us on May 6th at the Impact Showcase event recognizing businesses and nonprofits, alike committed to social good. 
More on the recognition event and the full list here: bit.ly/2020ImpactList
Shawntan nominated for National Philanthropy Day Award by Association of Fundraising Professionals

Shawntan has been nominated for a National Philanthropy Day Award through the Minnesota Association of Fundraising Professionals, which seeks to highlight community members who are exemplary in their fundraising, philanthropy, and other efforts to make our community a more inclusive and welcoming place.
GRP receives One in a Million Award by Multiplying Good

On August 5, 2020, Girls Are Powerful was recognized by Multiplying Good for empowering the Twin Cities community of young women and adapting to COVID-19 in innovative and valuable ways.
Shawntan nominated for 2018 WaveMaker Award by TeamWomen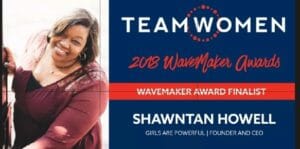 Shawntan was named to the short list for the WaveMaker Award, granted to a woman who is making waves through the demonstration of an outstanding achievement, entrepreneurial spirit and initiative, or leadership within their profession or the community.
Shawntan named 2018 Be the Change Awardee by HandsOn Twin Cities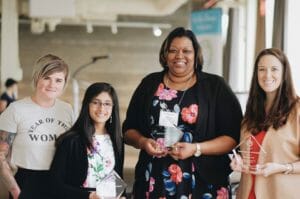 Keynote speaker Katie Stellar with award recipients Sanya Pirani, Shawntan Howell, and Wynne Reece.
HandsOn Twin Cities bestows its Be the Change Award to volunteer leaders whose everyday exceptional acts are shaping the Minneapolis–
St. Paul community.
MN LYNX Nonprofit of the Game
Girls Are Powerful was honored as the Nonprofit of the Game at the Lynx's We Are Women Night on August 16, 2019.  To commemorate this event and show our unity, our girls and parents wore special GRP jerseys.
Communities that KARE: Girls Are Powerful
Thank you, @KARE11 and @Alicia Lewis, for shining a spotlight on our nonprofit organization, including an interview with our founder and CEO @Shawntan Howell.
The Good Stuff – Girls Are Powerful
Join Colleen as she speaks with Shawntan Howell, Founder of Girls Are Powerful to learn about a personal transformation movement that engages and empowers girls to embrace their unique individuality through affirmations, self-reflection, and positive self-talk.
Shawntan was a guest on the Forethought Planning podcast on February 2, 2021 to discuss how to empower others with host Shannon Foreman.
Interview on Invisible Giants
Shawntan joined Traust Consulting's Invisible Giants podcast on September 26, 2019, to talk about being an entrepreneur and the work of GRP.
Shawntan at the 2018 Be the Change Award Ceremony

Shawntan explains her motivations in this video produced for the award ceremony hosted by HandsOn Twin Cities
Girls Are Powerful Interview on Twin Cities Live
Elizabeth Ries interviews Shawntan for the "Wonder Women" segment on ABC 5's Twin Cities Live on May 23, 2017.
Shawntan interviewed on Women Inspired
April Seifert interviews Shawntan about the inspirational tee-shirts that led her to found Girls Are Powerful Organization.
The Beauty of Black Girls Round Table
Shawntan was invited to join a panel on "The Beauty of Black Girls" in August 2017, hosted by the Children's Home Society of Minnesota and the Lutheran Social Service of Minnesota.
Girls Are Powerful on Fox 9 Morning News
Shawntan Howell, Jalyn D., and Ahmira R. join Fox 9 anchor Alix Kendall on April 8, 2016. 
Interview on Mom Talk with Denise LaRosa
"Raising a daughter makes me want to be a positive force in her life. I work hard to provide her with positive messages that are needed to conquer the internal and external battles she will be up against." —Shawntan Howell