POWERFUL TOGETHER
MONTHLY NEWSLETTER
November 17, 2021
Rising Covid Numbers
COVID cases continue to rise in Minnesota. Recent numbers are among the highest we've seen so far in 2021. Transmission is spreading rapidly throughout the state. Sadly, this means the pandemic is far from over. It's important to get vaccinated, wear a mask in public, and get tested when needed. If you're sick, please stay home, especially if you plan to attend large gatherings to celebrate the holidays.
ORGANIZATION ANNOUNCEMENTS
Give to the Max on November 18!
Together, We Are Powerful
Girls today face many obstacles that keep them from growing into their full potential. But when girls feel confident in who they are – when they find their unique voice – they find their power. Girls Are Powerful helps girls own their voice, stand in their power, and show people they are proud of who they and what they believe in.
In simple terms, if you want to strengthen communities: you start with girls. Strong girls develop into powerful women who can transform their surroundings.
Girls Are Powerful is dedicated to helping young girls of all races, backgrounds and experiences, ages 7 to 17, raise their self-esteem by recognizing their uniqueness and embracing their power. We've reached 6,000+ girls since we began seven years ago and have made a significant difference in the lives we've touched. With your help, we can continue this important work.
We need YOUR help! Please Give to the Max this year.
This year, our goal is to raise $8,000 on Give to the Max Day. One simple way you can help is by making a donation on Give to the Max Day 2021 (GTMD21), which is this Thursday, November 18. Led by GiveMN, GTMD21 is a special 24-hour period that highlights nonprofits across Minnesota, and as a bonus, GiveMN offers thousands of dollars in prizes to help donors (you!) make your financial donations go farther.
Help support our mission to develop powerful girls and young women. Your gift, big or small, makes a real difference in the lives of girls in our community.
With your support in 2021, we can keep working with girls and young women through our new Mentor Program, continuing our work of Identify Formation and Empowerment as well as supporting the limitless potential of girls.
We believe that with the right tools and confidence, girls can do absolutely anything, which is why Girls Are Powerful helps young minds find the tools they need to navigate our ever-changing world. 
Thank you in advance for your support in helping us achieve our vision of creating a generation of girls and young women who are confident, maintain healthy relationships, make positive decisions and exhibit responsible behaviors by embracing their power.
This year, if you haven't already, please help support our work by donating to our page and inspiring others to give. Our goal is to raise $8,000 to support our programming to empower girls. Your gift, big or small, makes a real difference in girls' lives in our community. For those of you who already gave, THANK YOU! We really can't do this work without the support of donors like you!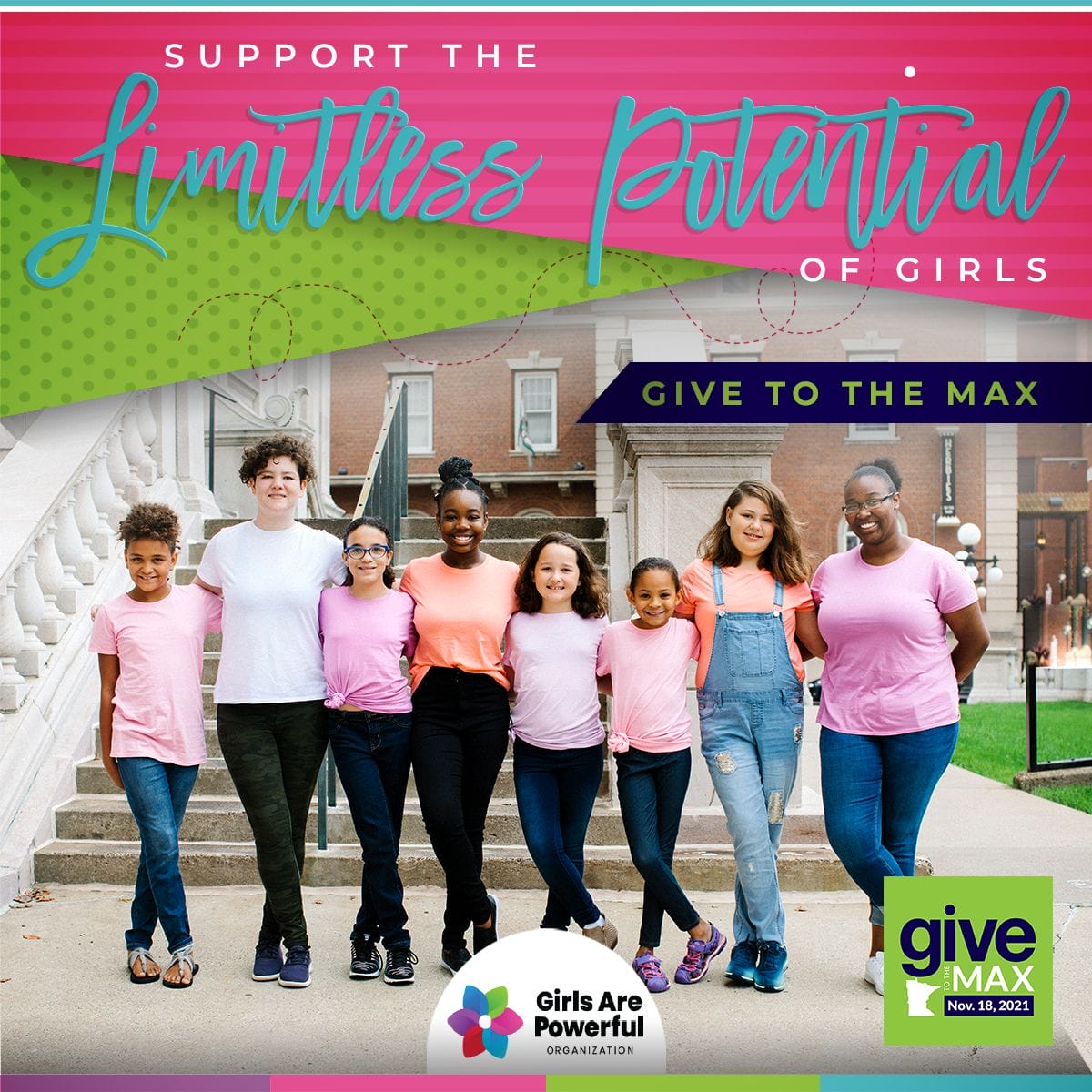 Hello November!
This month Girls Are Powerful's CEO and Co-Founder, Shawntan Howell, shared a short video with updates and reflections on what's happening at GRP. If you haven't seen it yet, take a look at the "Hello November" video! 
Looking for Volunteers!
The benefits of volunteering are endless. We're looking for thought-leaders, experts, and people who just want to give back to the community. We have a variety of activities where we could use some support. To learn more about volunteering with us, please visit Become a Volunteer.

Vaccine Clinic Open on Thursday
The Saint-Paul Ramsey County Public Health has a vaccine clinic this Thursday, November 18 at Arlington Hills Recreation Center at 1200 Payne Ave, St Paul from 3:00 p.m. – 6:00 p.m. If you still need to get vaccinated, now is the time!   A $50 incentive will be offered at this site for first and second doses. Sign up here! 

COVID-19 Vaccine for Kids 5-11 
Children ages 5 to 11 are now eligible to get vaccinated with the Pfizer COVID-19 vaccine for 5- to 11-year-olds. It has been shown to be safe and to work well for children. If you have questions about vaccines, talk to your pediatrician or visit mn.gov/vaxforkids/.
COVID-19 booster doses 
Are you eligible for a COVID-19 vaccine booster shot? If you got the Johnson & Johnson vaccine, you should get a booster at least two months after your initial shot. If you got Pfizer or Moderna and are 65 years or older or at risk, you can get a booster at least six months after your second dose. Many providers are offering boosters, and eligible people can go get one! Officials have authorized "mixing and matching" COVID-19 vaccine boosters, meaning your booster dose does not have to be the same type of vaccine as your primary series. Get more information and find a booster shot near you HERE. 
Vaccine incentive for ages 12-17  
Want to throw the first pitch at a Twins game, ride the Zamboni at a Wild game, or meet your favorite Vikings player? Get fully vaccinated and enter for a chance to win! All fully vaccinated Minnesotans 12-17 years old are eligible to enter HERE.
Celebrating Thanksgiving / Your Family Gathering
With COVID cases on the rise, it's important to remember that getting together with people who live outside our home can increase the risk of infection. For those who celebrate Thanksgiving, below are recommended precautions to have a safe and healthy family gathering: 
Stay home if you do not feel well.

Keep gatherings small. Meet outside if possible.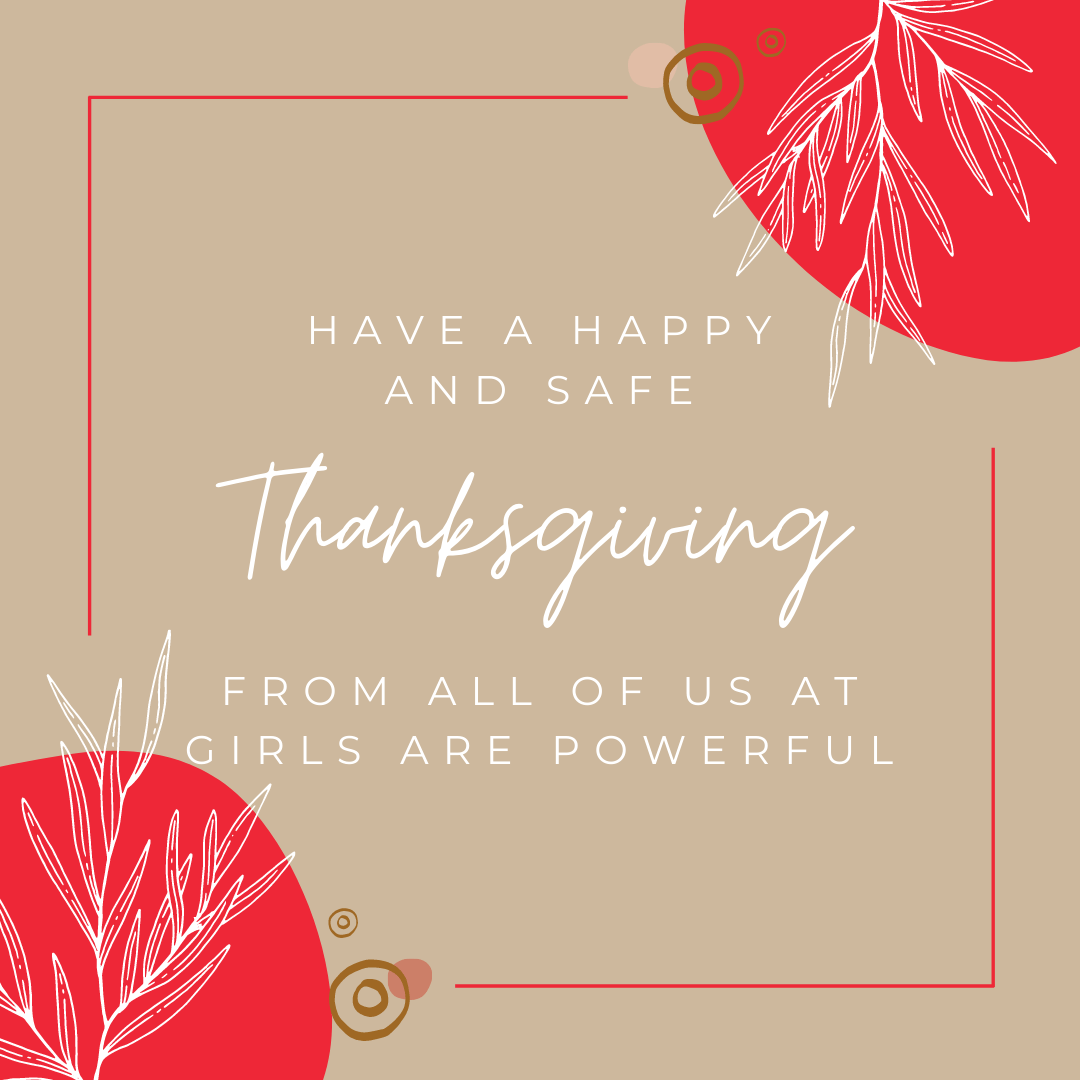 Girls Are Powerful (GRP) is launching its very own Mentor Program, which will bring together girls from all races, cultures, and lived experiences to discover and embrace their identities and use their power to positively impact their communities.
This program will allow us to move from an event-based organization to one that allows us to create a sustainable relationship with more than a small number of our participants but all of them. 
We will be connecting groups of girls with Peer Mentors and Adult Mentors, who will guide participants through a three-year curriculum within a safe environment for sharing and growth. Launching in the fall of 2022.
Stay tuned as provide more updates on our progress and upcoming events leading to the official launch.
Power Move
Our Power Move sessions are going strong! And if you've been attending, you're probably feeling pretty strong yourself. We have one final Power Move on December 7 with Mia Wanna. Put it on your calendar- it will be on Facebook LIVE 6-630p CT. We hope to see you there!


National Gratitude Month
This month is National Gratitude Month. Research shows that practicing gratitude every day will increase your happiness and can make you healthier. Now that's something to be grateful for! So this month, take a minute and pause to think about the things that you appreciate the most. Focus on the little things that maybe you take for granted. This will help you focus on the positive rather than the negative aspects of your life and will bring you a greater sense of satisfaction.
Wonder Woman! 
This month we're highlighting Ilhan Omar. Ilhan is a U.S. Representative for the state of Minnesota and she represents a lot of firsts! She is the first Somali American, the first African refugee, and one of the first Muslim-American women elected to Congress. What's more, she's the first woman of color to represent Minnesota. And, to top it all off, she is a working mother of three young children! Her success is proof that #GirlsArePowerful.
World Kindness Day 
November 13 was World Kindness Day! This day was created together by countries around the world to remind people to be kind to others, to the world, and to themselves. You might not have needed a reminder to be kind to others, but if you forgot, do something nice for someone today!
We are looking for new members! If you know a creative girl between the ages of 12 and 17 looking for ways to engage with her community – consider asking her to apply. This is a great opportunity to try something new, meet girls outside her social circle, and show off her leadership and project management skills. 
To learn more, check out the Youth Advisory Board web page. If you are interested in joining, please complete our Interest form here.